What's new?
https://conferencing.csiro.au?ref=october_23_2020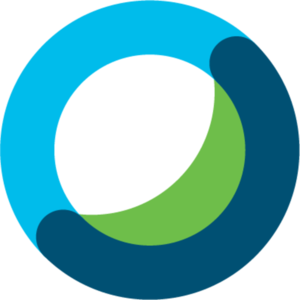 New in Webex - October 23, 2020
>
Dark Theme
You can now choose whether you want to view the meeting window in the standard Light Theme or the new Dark Theme, available from the View menu. Reduce eye strain by choosing a theme that works best with your lighting conditions.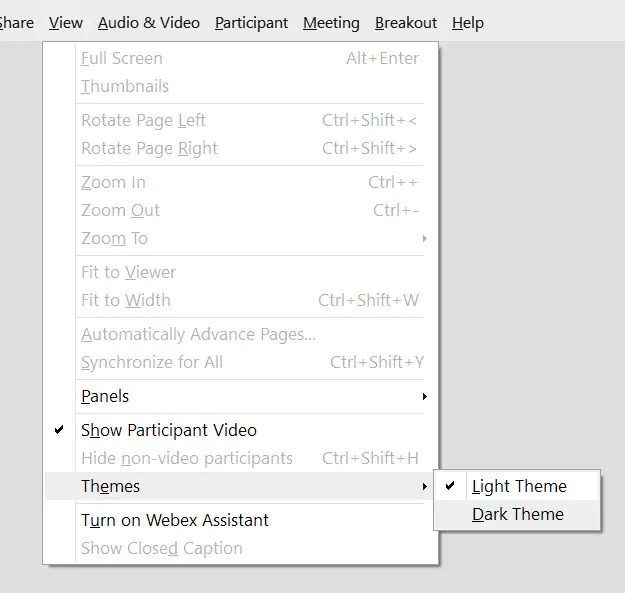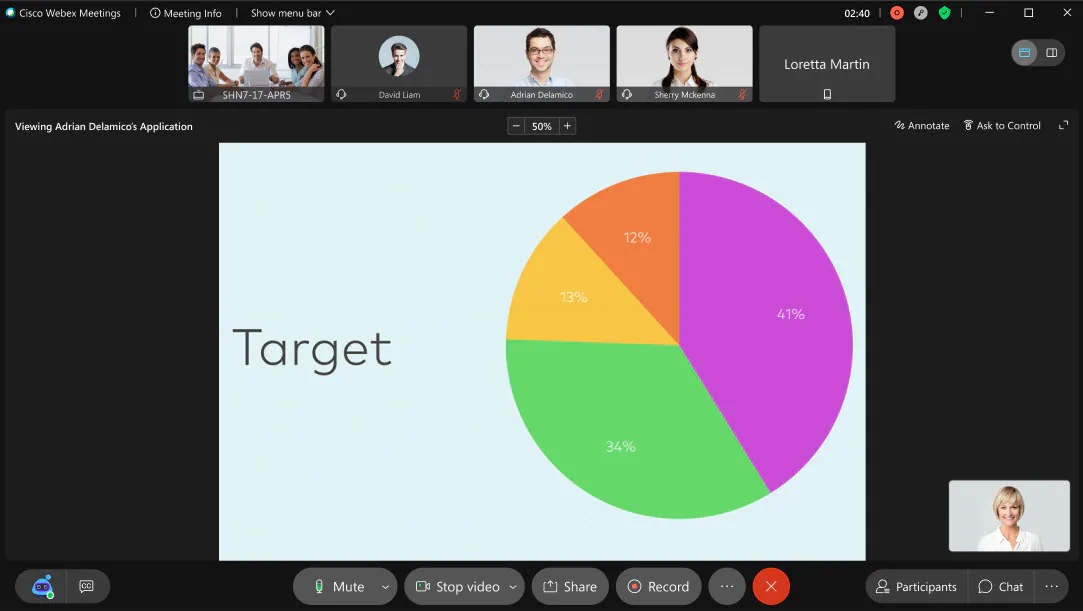 Improved mute and mute all behaviour
This release of Webex includes several improvements to mute behaviour, to assist Hosts and Cohosts in managing background noise, while at the same time ensuring greater audio privacy for attendees.
Easy to find 'Mute all' and 'Unmute all' buttons
The mute all and unmute all buttons are now easier to find, right at the bottom of the Participants panel.
Mute All with Mute on Entry
When you click 'Mute all', it will also turn on 'Mute on Entry' by default, to make sure that anyone joining the meeting late will also be muted from that point forward. Similarly, when you click Unmute all, it will automatically turn off Mute on Entry. This makes for a much more intuitive experience when managing mute in your meetings. You can still choose to turn on or off Mute on Entry independently.
Unmute and Audio Privacy (coming November 3rd 2020)
Now, when a host or cohost unmutes a participant, that participant will be given a prompt to unmute, instead of being unmuted directly. This helps to prevent meeting distractions or catching others by surprise if they weren't expecting to be unmuted.
Grid View increased
Previously only the last 6 video conferencing rooms could be seen in Grid View when using the desktop or mobile app; this number has now been increased to 25 with a 5x5 Grid View layout. When attending a Webex meeting from a video conferencing room, the number of people shown on screen has also increased from 16 (4x4) to 25 (5x5).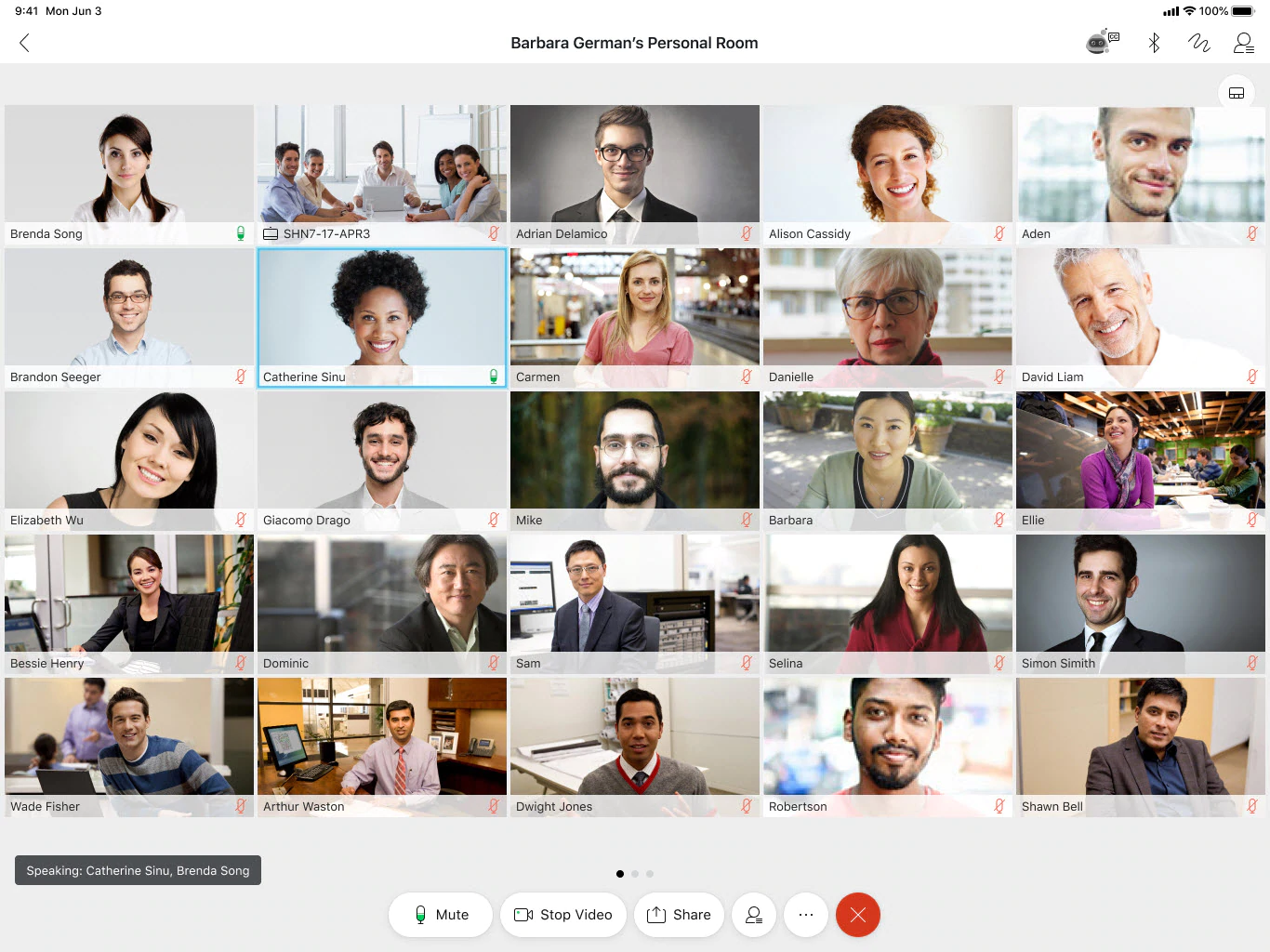 Video thumbnail improvements
Webex meeting attendees who don't have video turned on and who don't have a profile picture, will now have their name displayed rather than just their initials. This will help more accurately identify who is speaking. Layout controls are now also available in Floating View when the video window is minimised.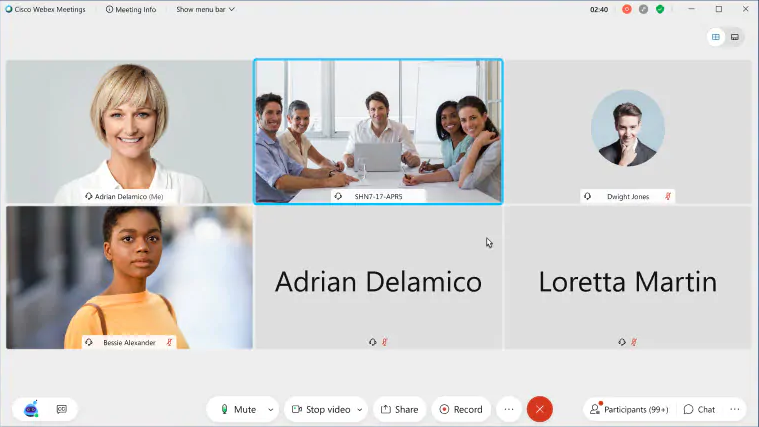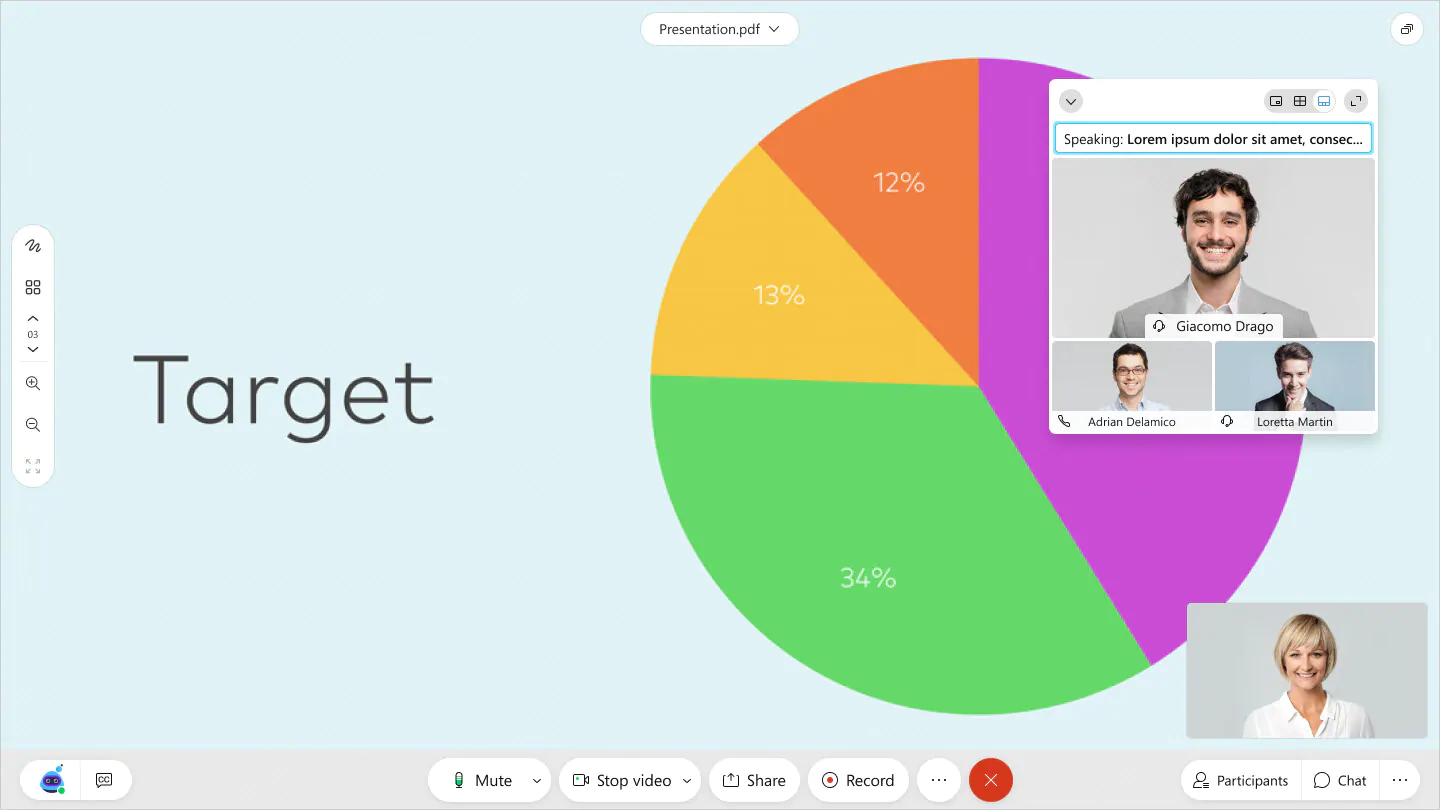 Apple Pencil support for native annotations
iOS users can now officially use their Apple Pencil to annotate shared Webex content directly from their iOS device.
https://conferencing.csiro.au?ref=September_16_2020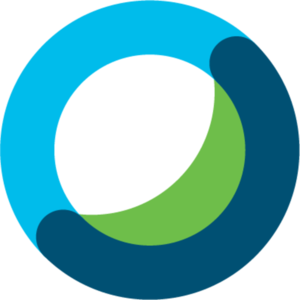 New in Webex - September 16, 2020
>
Breakout Sessions
Breakout sessions allow meeting Hosts to separate participants into several smaller groups, and then bring them back to the main meeting when ready. This is great when smaller groups need to discuss a particular topic without broadcasting that discussion into the main meeting; perfect for virtual-workshop-style events. Hosts can drop into breakout sessions to see how everyone is going, and when ready, bring everyone back into the main meeting or send a broadcast message requesting that everyone return to the main meeting.

As of the above date, breakout sessions will be enabled by default for all existing and newly scheduled Webex meetings. Up to 100 breakout sessions can be created per meeting, and participants can leave and join breakout sessions as many times as they want during a meeting.

Important: Breakout sessions can't be joined from video conferencing rooms, the Webex Teams application, or by phone only attendees (including attendees who 'Call In' but don't enter their attendee ID). These attendees will remain in the main meeting. If you're using the desktop app and calling in, make sure you enter your attendee ID when prompted - to find your attendee ID, see Finding your call-in attendee ID.

For full details on how to configure and use and breakout sessions, please refer to the Webex Meetings page.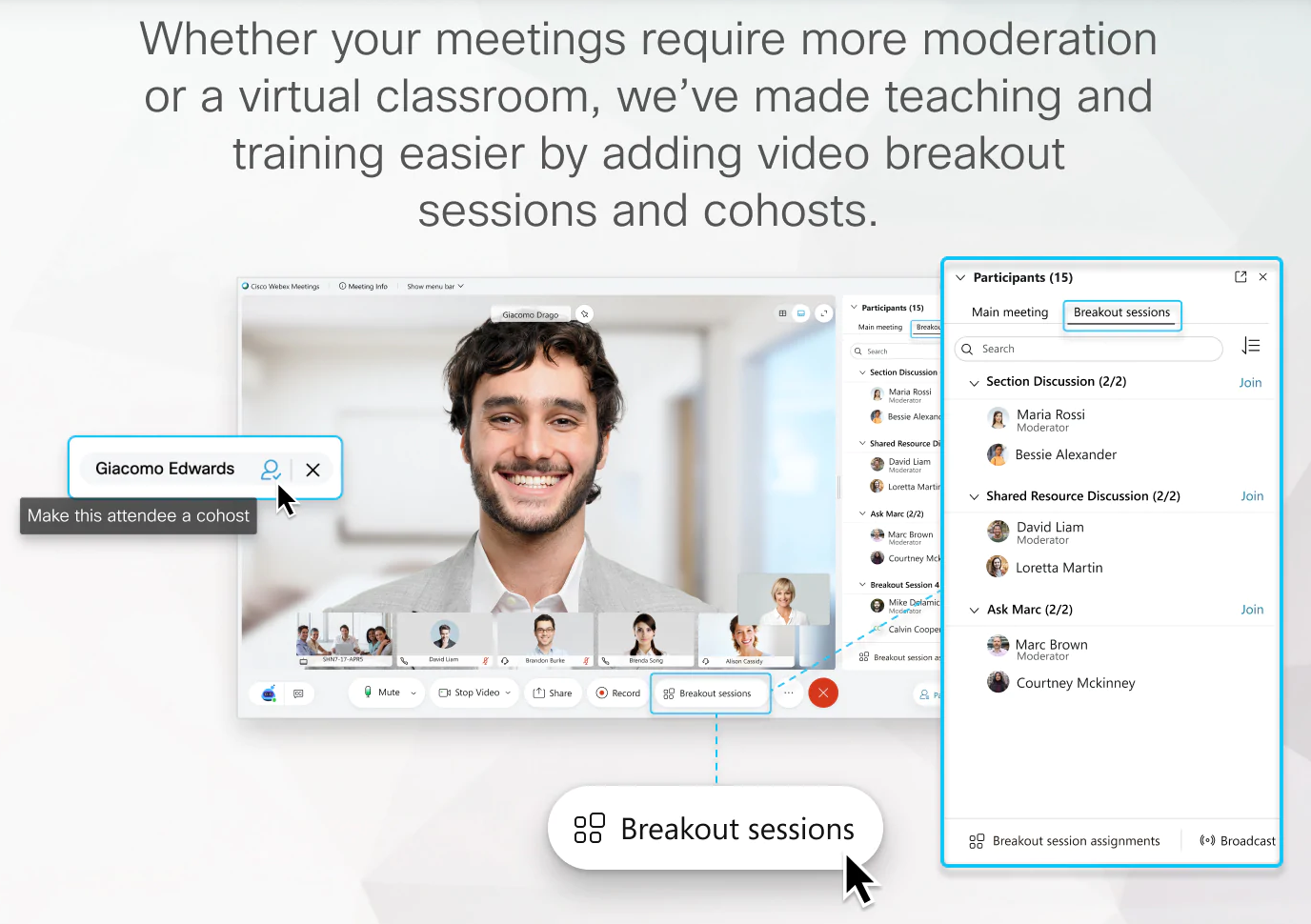 Lobby Rooms
Important: IMT has noticed some bugs with the Lobby Rooms feature and is in consultation with Cisco to get these resolved as soon as possible. If using the 'Move to lobby' option, inform attendees that they should leave their microphone unmuted while waiting in the lobby.
Webex lobby rooms are virtual waiting rooms that give Hosts the opportunity to review who is trying to join their meeting, before admitting them. This is very useful for Webex meetings where people will be coming and going at different times during the day – Hosts can now ensure that only the appropriate people are connected at the appropriate time.

To enable lobby rooms for a meeting, Hosts simply need to lock the meeting - participants who join after this time will be automatically placed into the lobby. Hosts can also manually move a participant from the main meeting back into the lobby, and then re-admit them when ready.

Note: video conferencing rooms cannot be manually moved back into a lobby room once connected to the main meeting - this feature is coming in November.

For full details on how to use the lobby feature, please refer to the Webex Meetings page.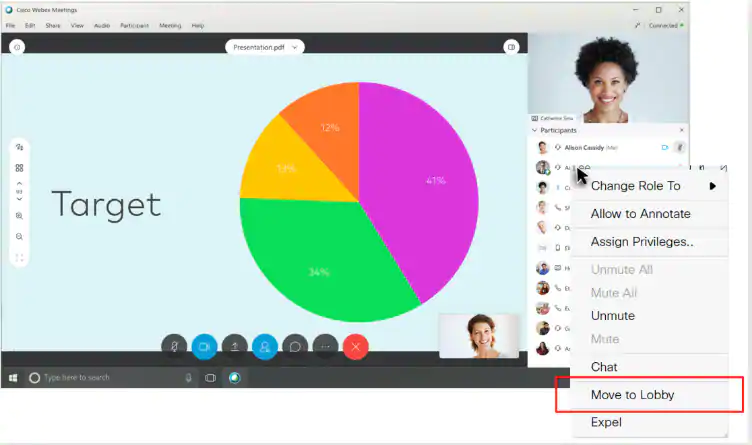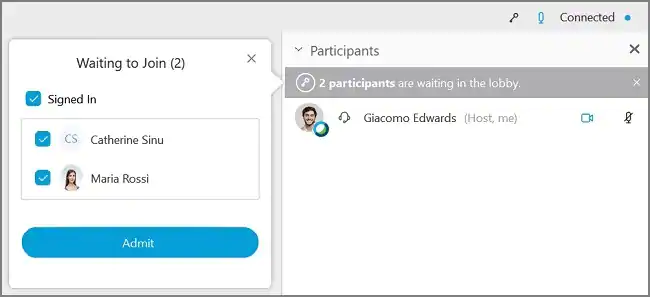 Cohosts
To help Hosts manage Webex meetings including the breakout session and lobby room features, Hosts can now assign Cohosts. Cohosts have the same privileges as the original Host so they can mute participants, admit people from the lobby, and join and leave breakout sessions as required. As Host you can assign as many Cohosts as you like.

Note: only the Host can record a meeting. If the original Host leaves, one of the Cohosts will be automatically assigned the Host role.

To assign a Cohost on the fly, simply right-click on a participant's name, hover over 'Change Role To' and click 'Cohost'. To learn how to configure advanced Cohost options such as assigning regular Cohosts to all your meetings, please refer to the Webex Meetings page.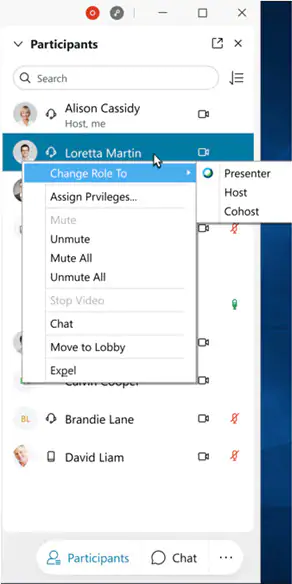 https://conferencing.csiro.au?ref=september_09_2020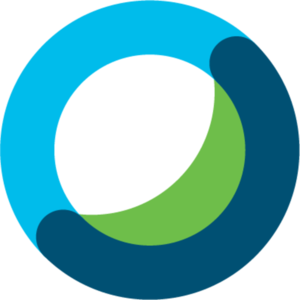 New in Webex - September 09, 2020
>
New Look and Feel
Webex has a new look and feel that makes it easier than ever to find and use common meeting controls and features. Starting with the join meeting experience, the preview screen is now shown in fullscreen mode, with contextual menus attached to the 'Mute' and 'Start/Stop Video' icons allowing you to quickly change your device settings. The virtual backgrounds menu is now accessible with the click of a button, as too is the audio testing tool.

Once connected to a meeting, you'll notice that all of the main control buttons now have text accompanying the icons to improve accessibility and reduce the amount of time it takes to find the correct button. Panels such as the 'Participants' and 'Chat' panels are now hidden by default - to show a panel simply click the corresponding button to the right of screen.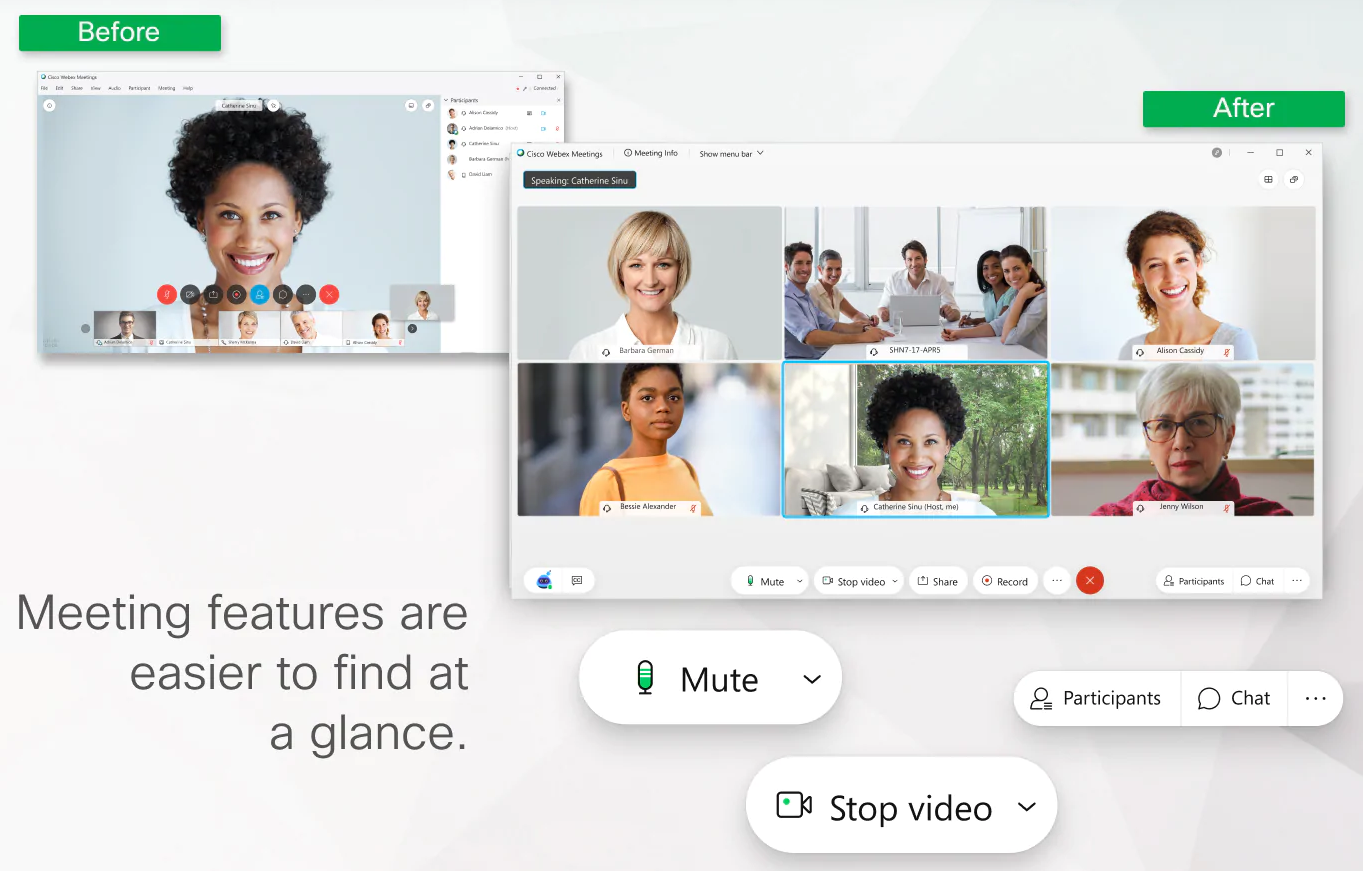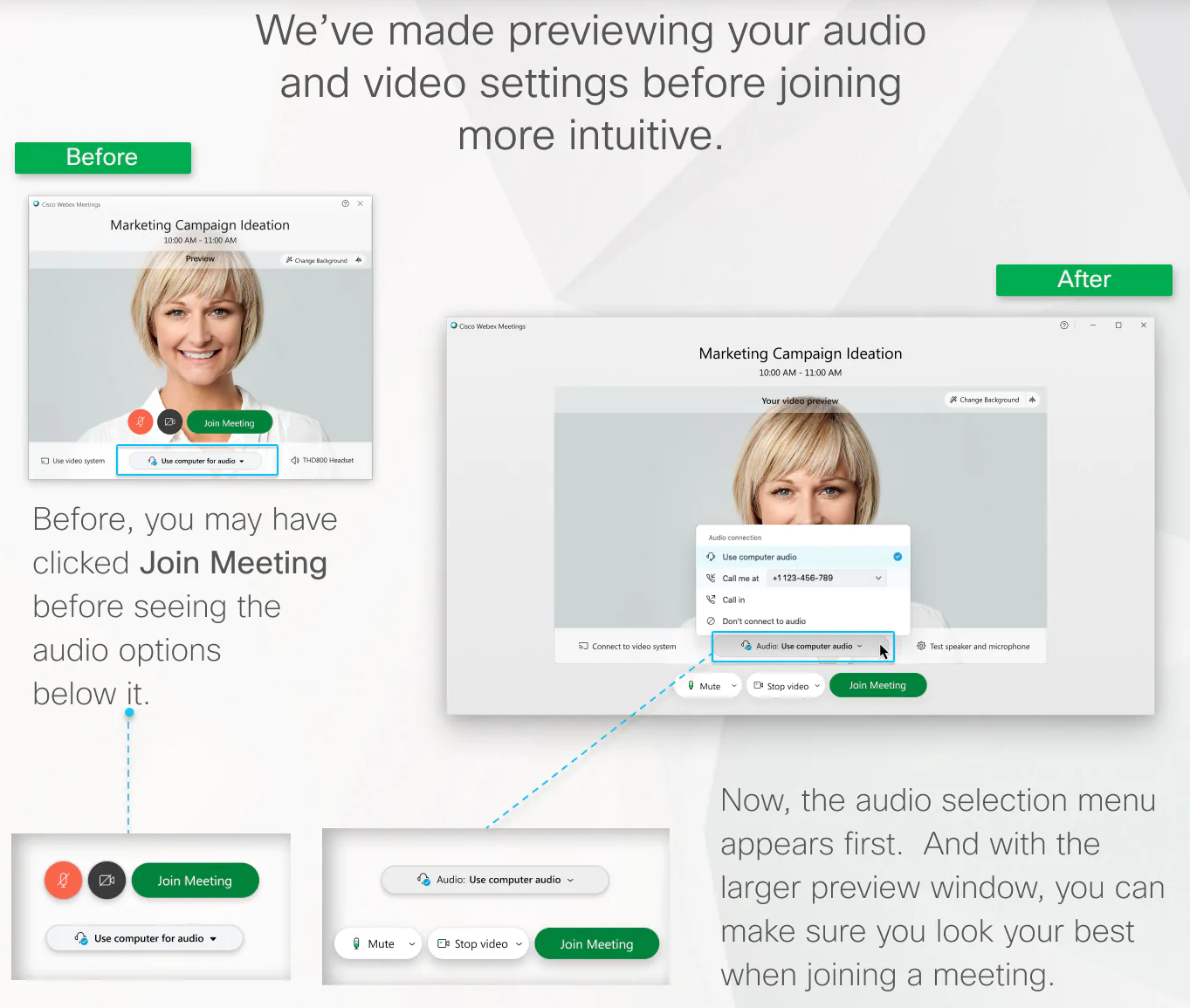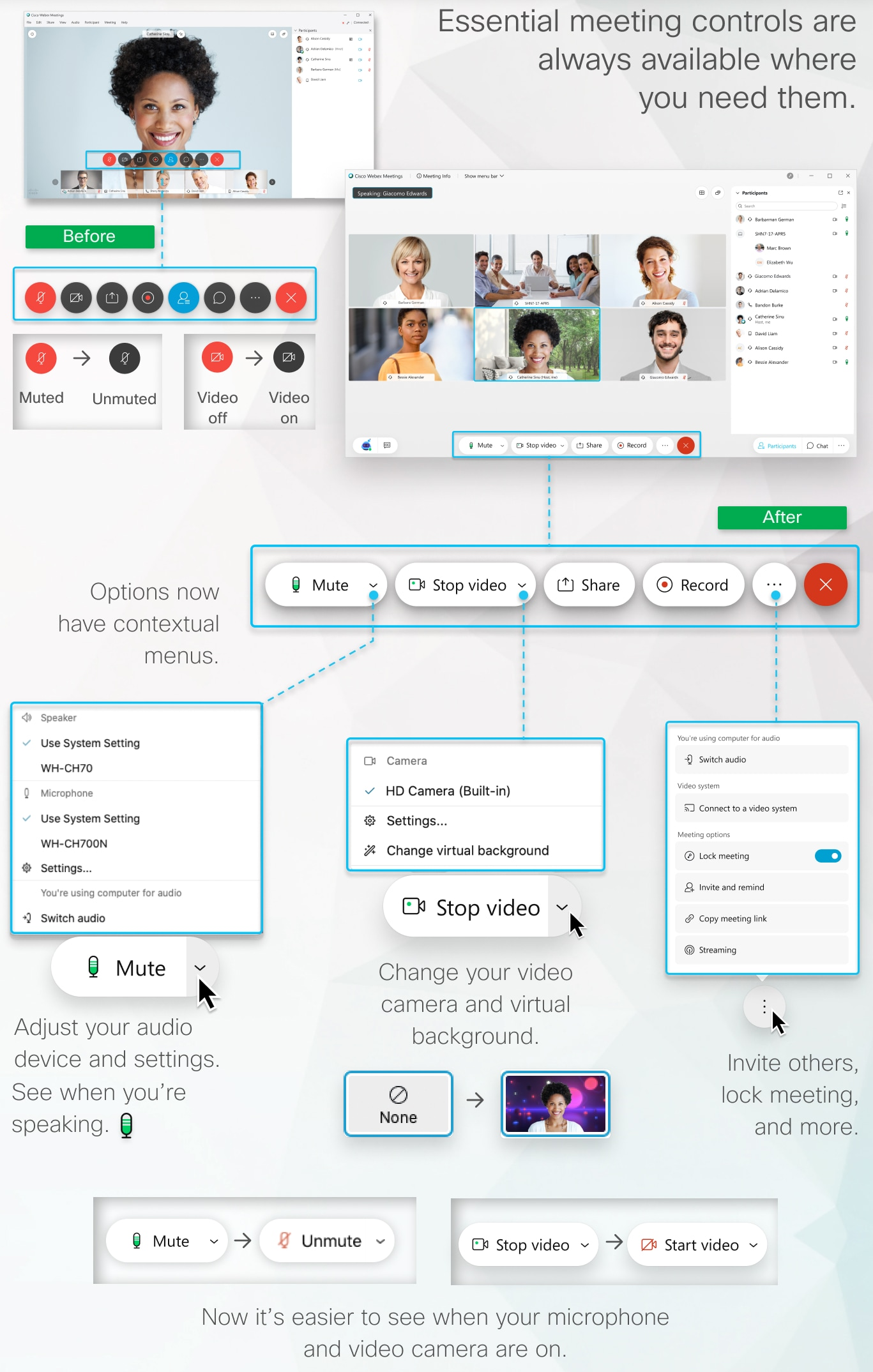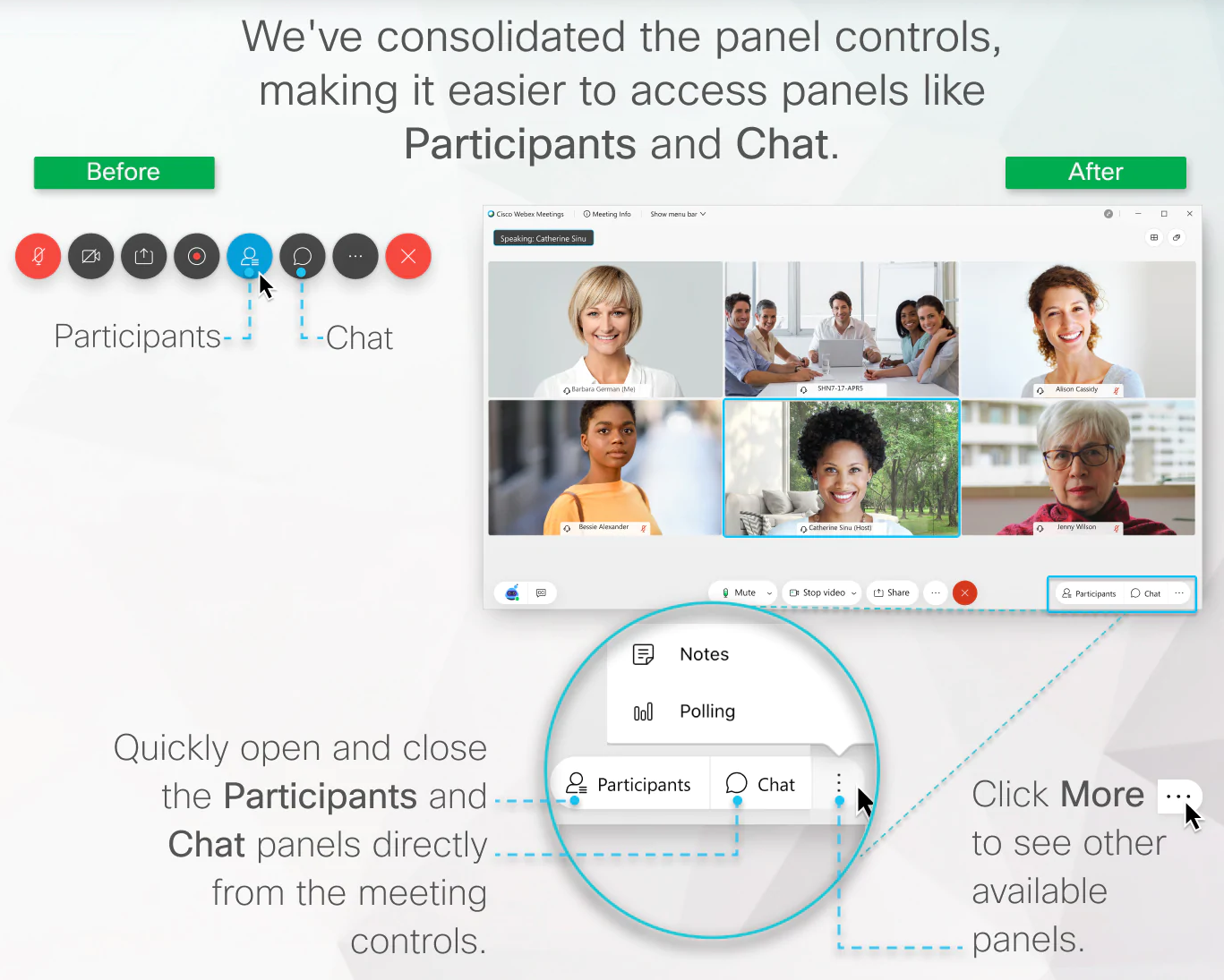 https://conferencing.csiro.au?ref=august_05_2020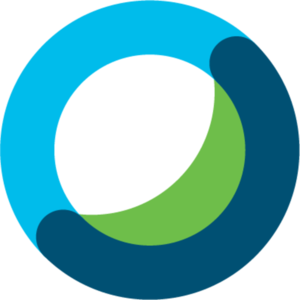 New in Webex - August 05, 2020
>
Default 'Grid View'
For a more collaborative feeling 'Grid View' is now the default when no content is being shared. You can still change your view to 'Active Speaker Video View' or 'Active Speaker and Thumbnail Video View' (the previous default) from the controls in the upper right area. For more information visit help.webex.com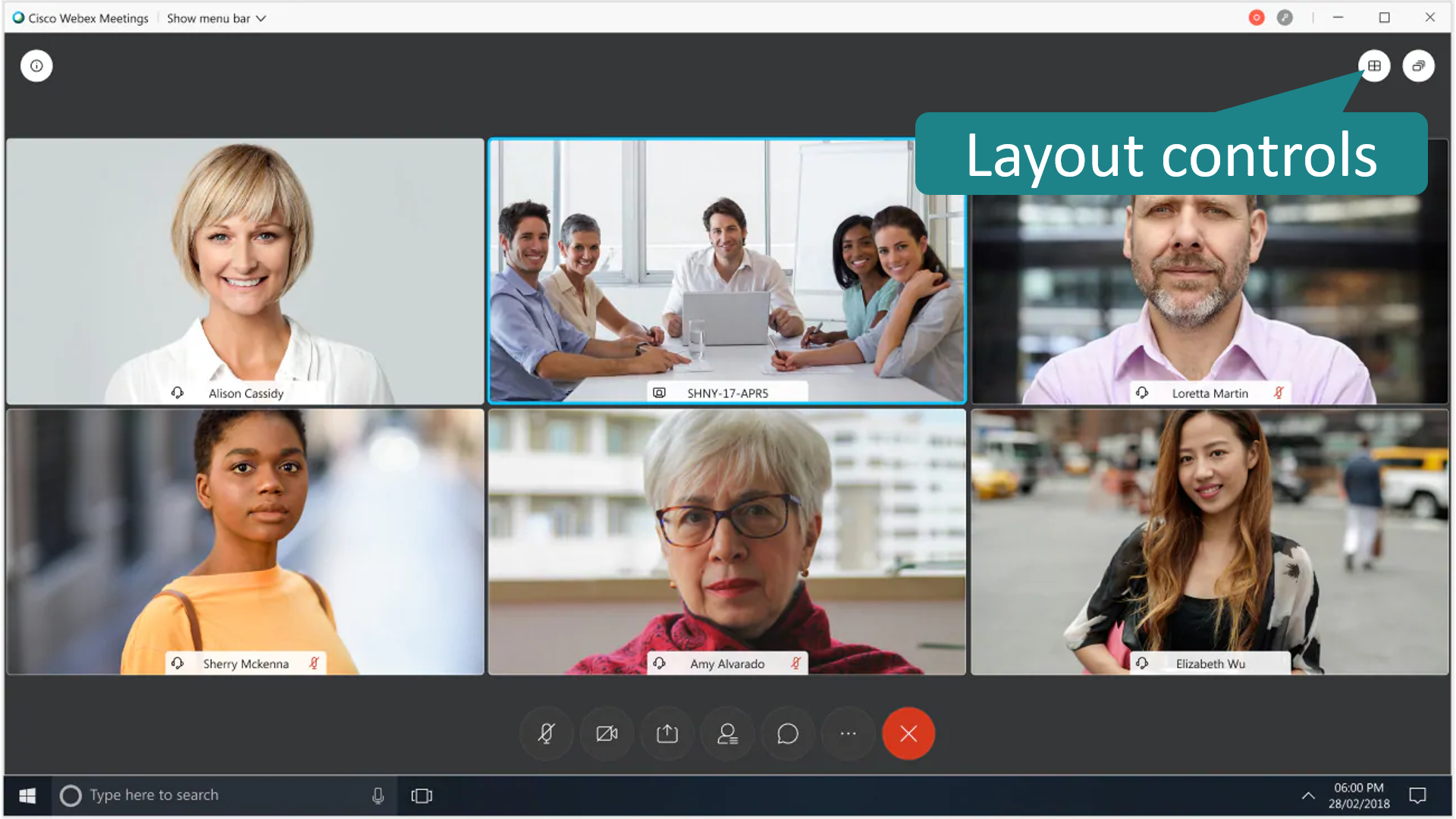 Custom Virtual Backgrounds
On Windows and Mac you can now choose your own image for a custom virtual background, select a standard Webex image, or blur your actual background for privacy.

To use a custom background click the add new button (+) under 'Change Background' and select a jpg or png image. For best results, use an image that is greater than or equal to 1280 x 720 pixels. Note that if you just want to blur out your real background, you can do so by clicking 'Blur'.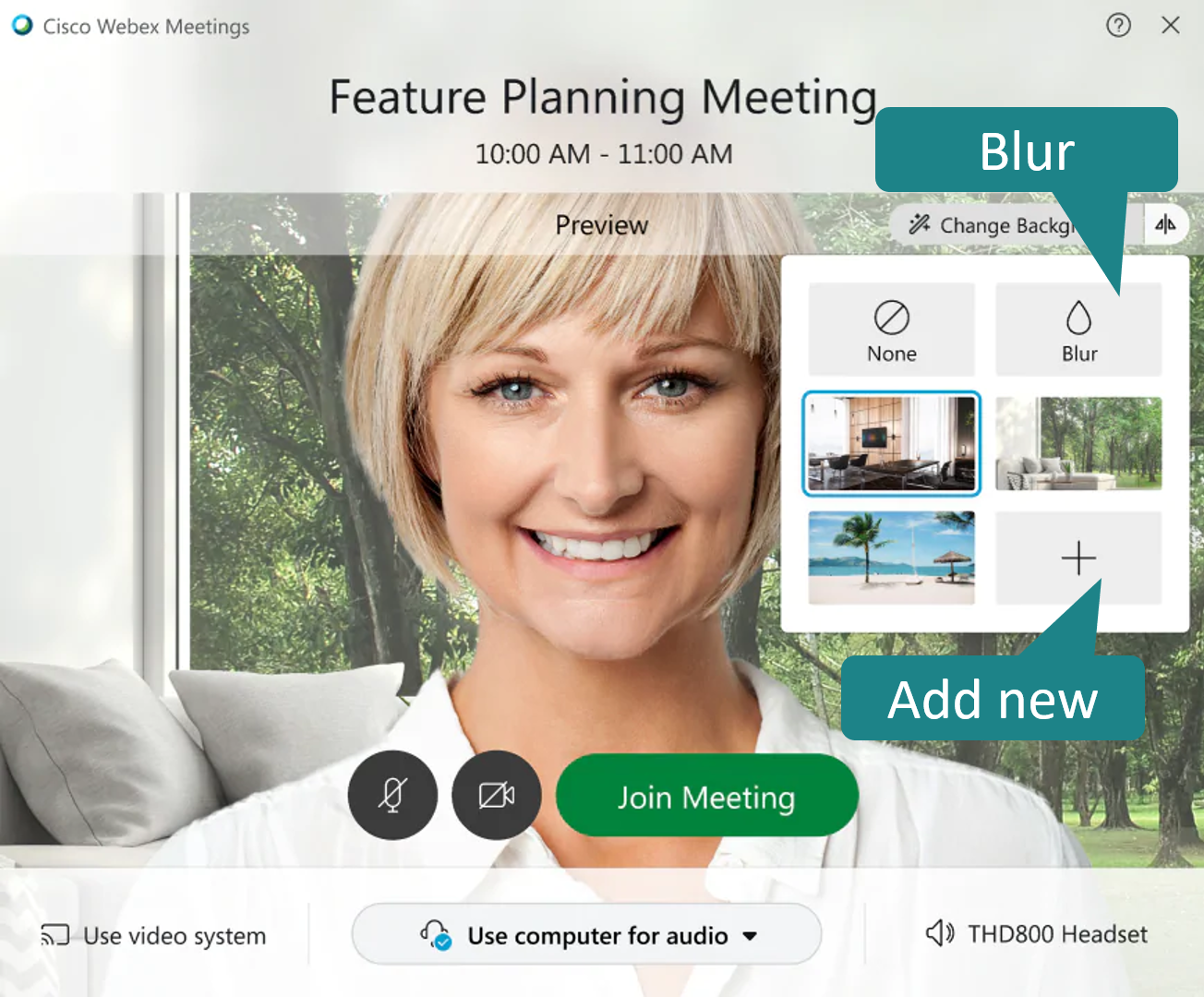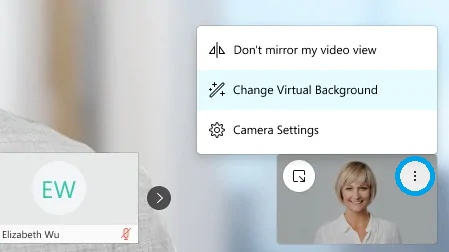 Note: virtual backgrounds are CPU intensive, so if you receive an insufficient bandwidth or CPU warning, consider closing any unnecessary background applications. If Webex detects that a laptop or desktop is not a high enough specification to support virtual backgrounds the option will not be displayed.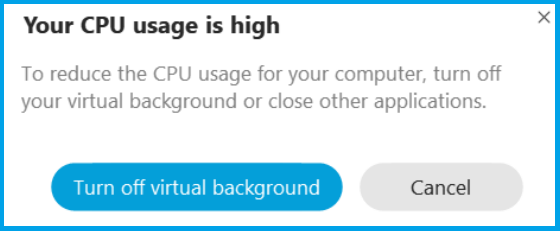 CSIRO Brand and Marketing has produced a collection of CSIRO images that can be used as virtual backgrounds - right click one of the images below and select 'Save image as' to download to your computer and then follow the instructions above to add the image to your Webex.

Note: CSIRO logo may appear blurry in grid view when used as a custom virtual background and should only be used when needed. Logo will appear reversed to you when mirror self view is enabled (default) but will appear correct to other participants.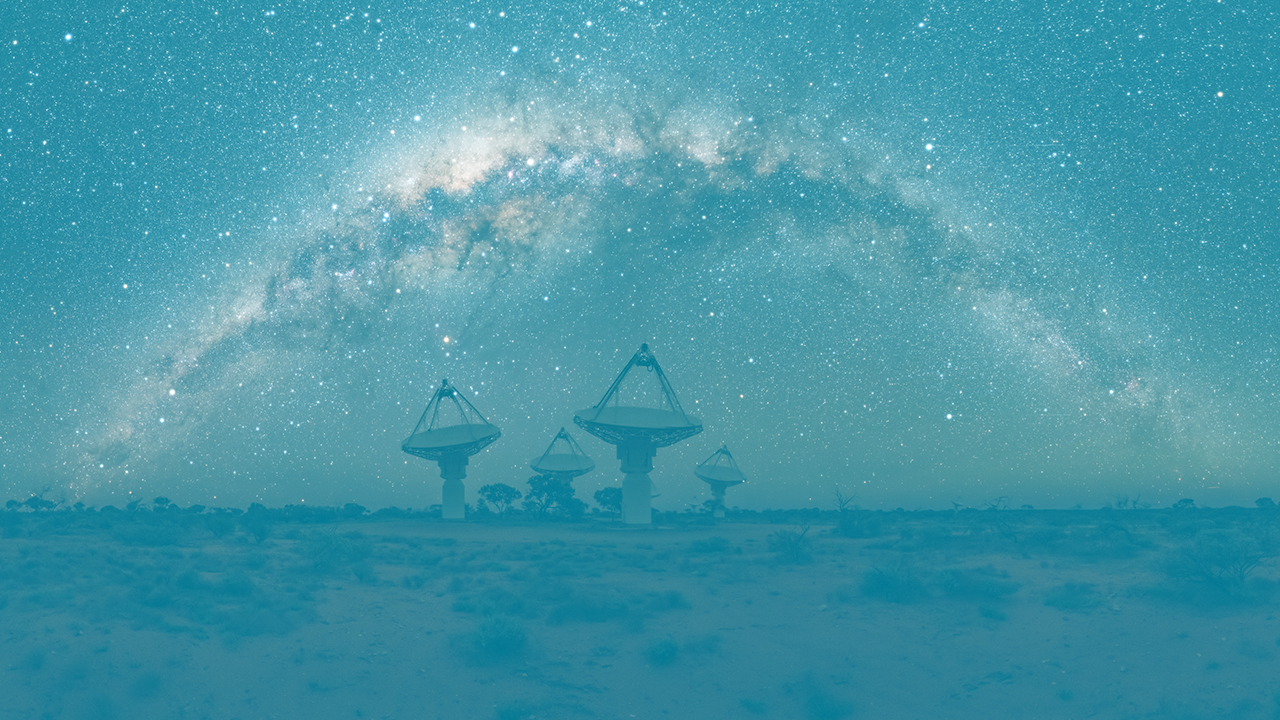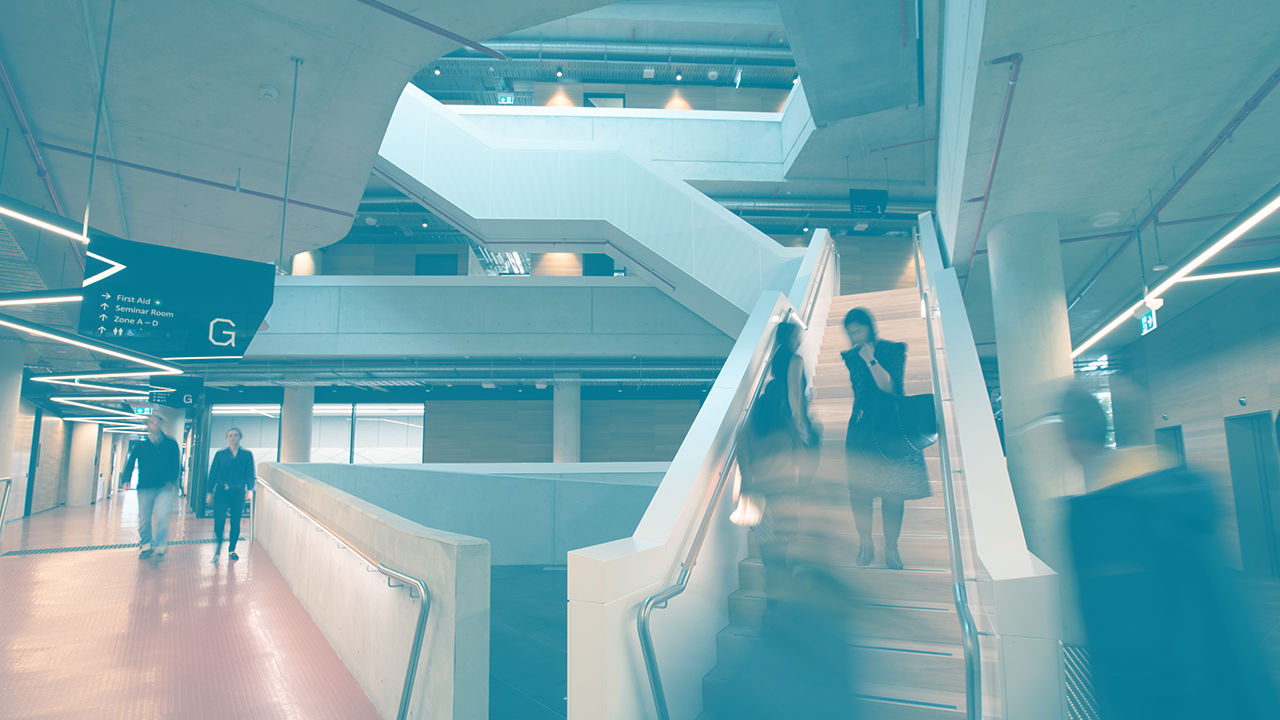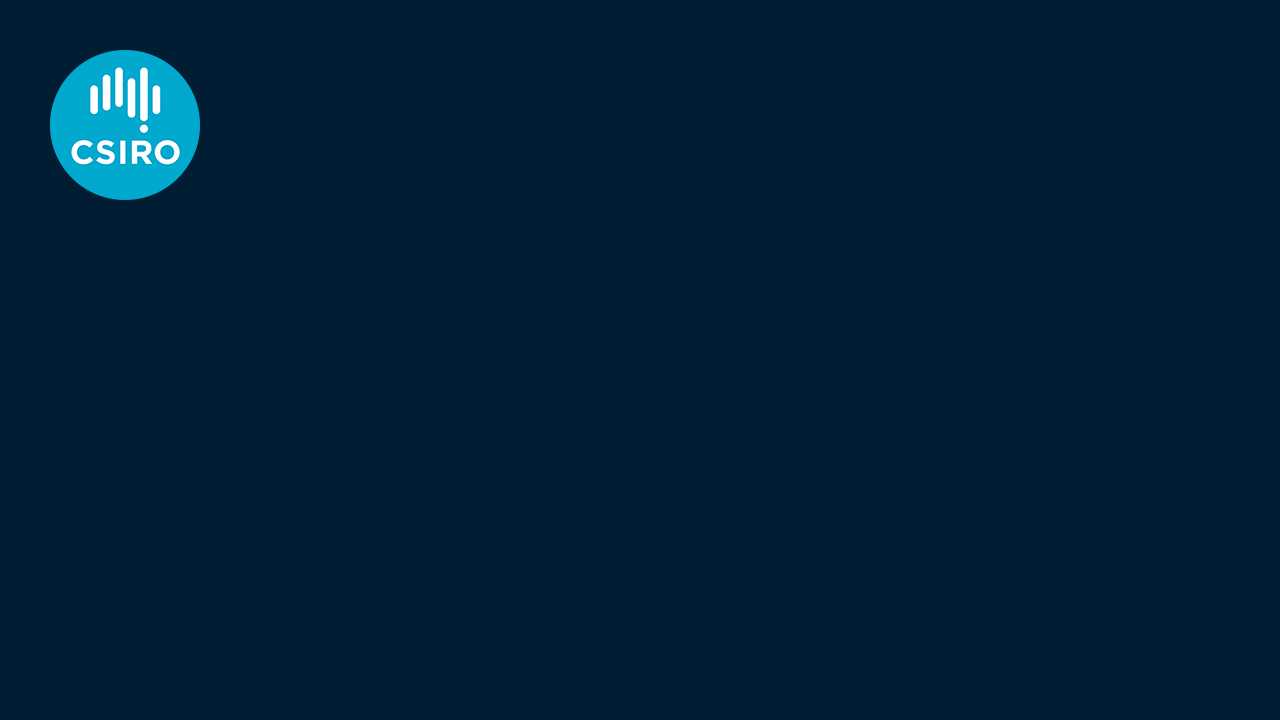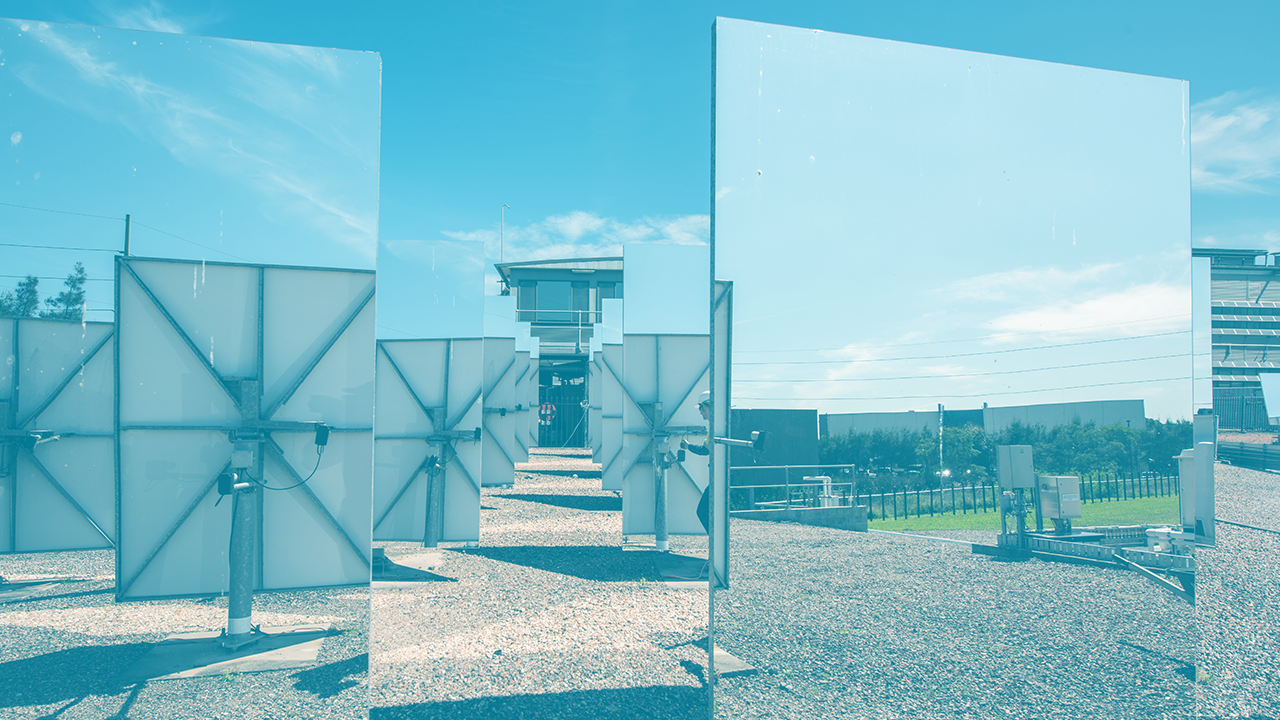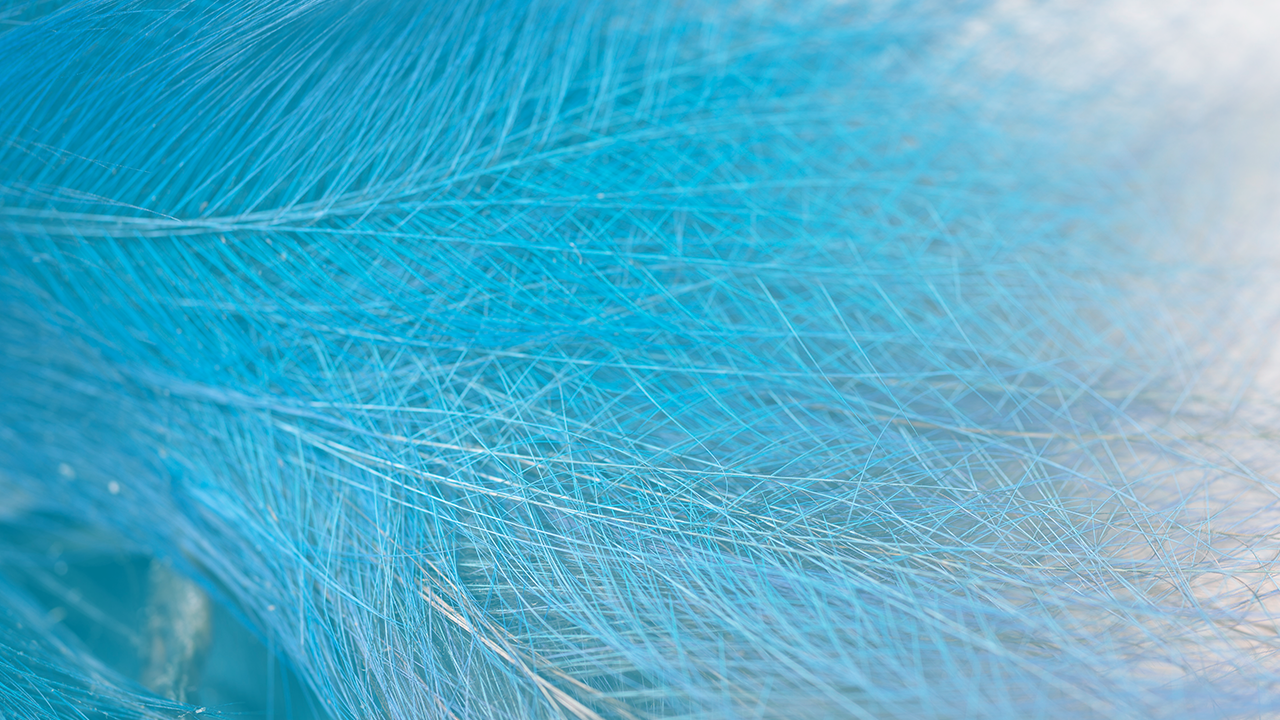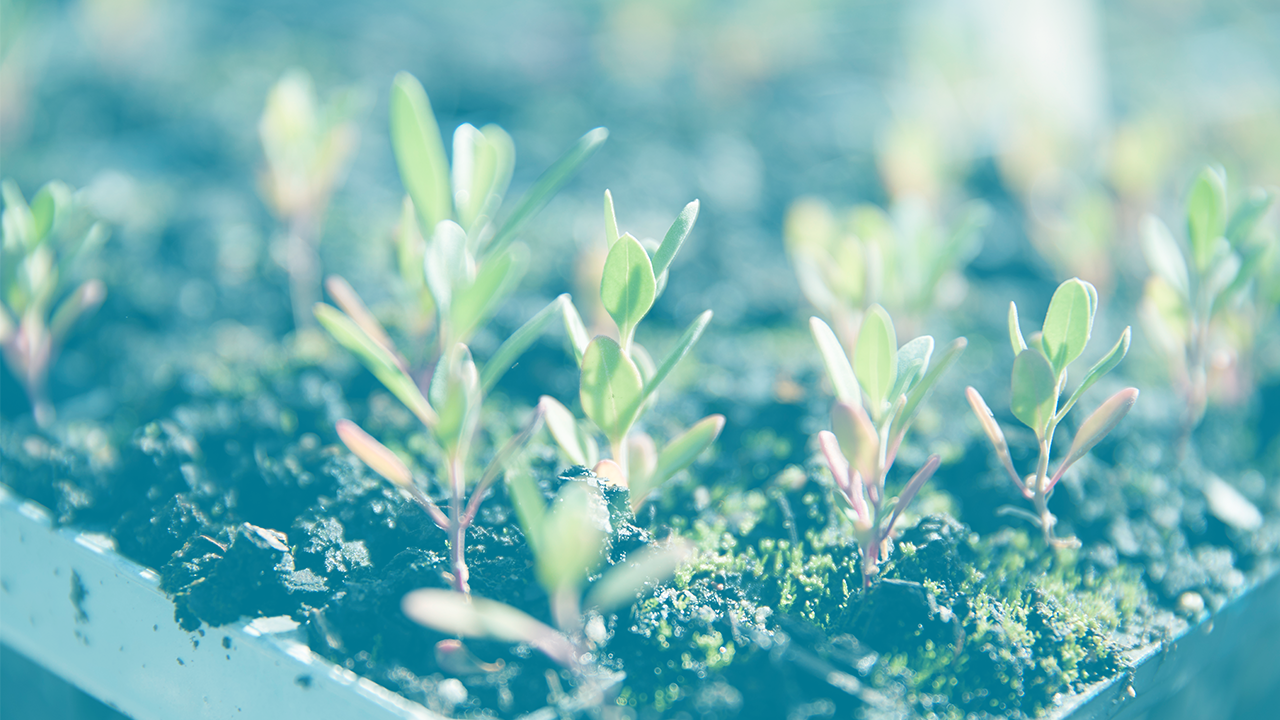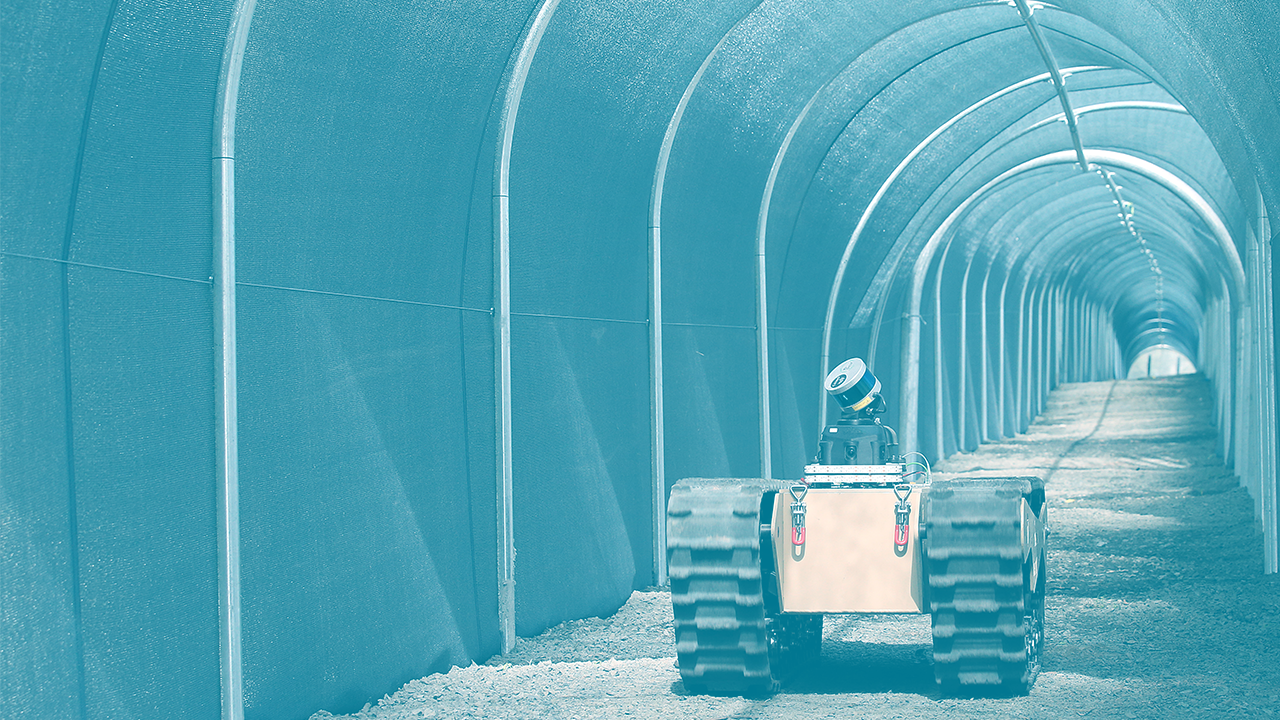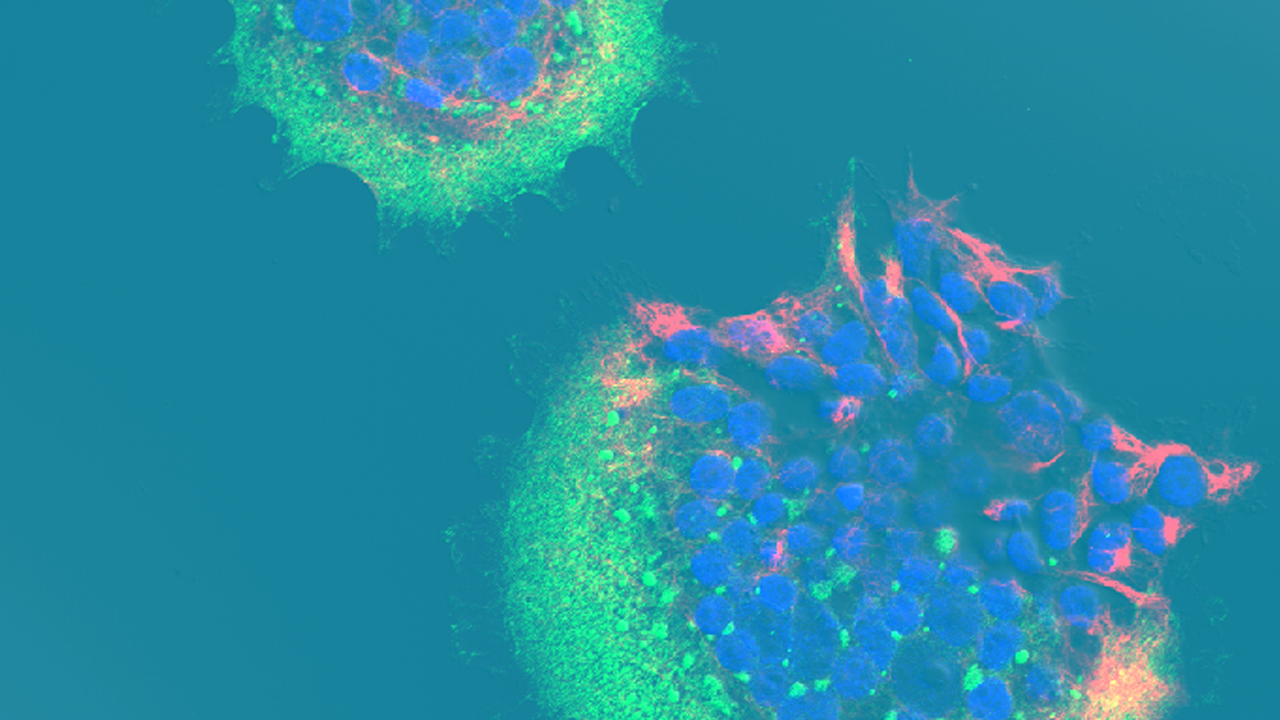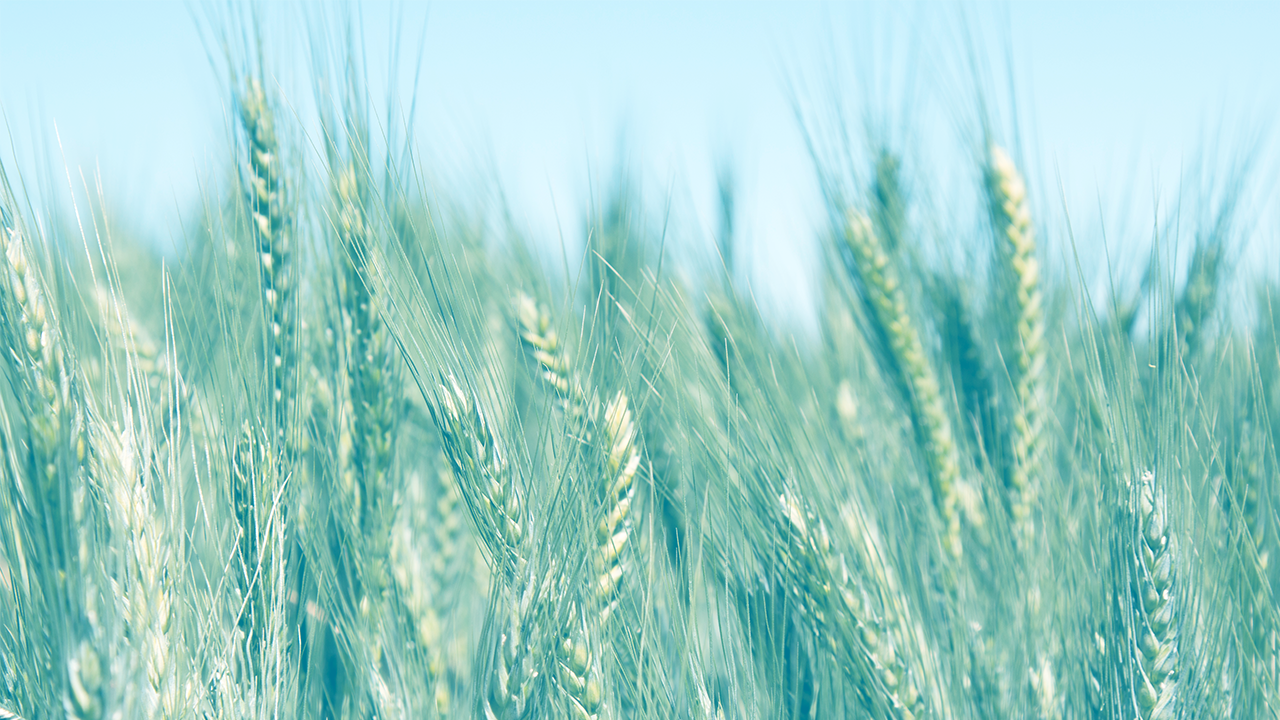 Please Note: Logo's may appear blurry in grid view when used as a custom virtual background and should only be used when needed. Logo will appear reversed to you when mirror view is enabled (default) but will appear correct to other participants.
For more information (including instructions for Android and iOS devices) visit help.webex.com
Spacebar Push to Talk
When muted, you can now hold the spacebar down to momentarily unmute. Simply press and hold the spacebar when you want to talk. You'll see an indicator that you are temporarily unmuted. Release the spacebar to go back on to mute. While on the topic, did you know you can mute and unmute by pressing [Ctrl][m] on Windows, and [Shift][command][M] on Mac? You're welcome.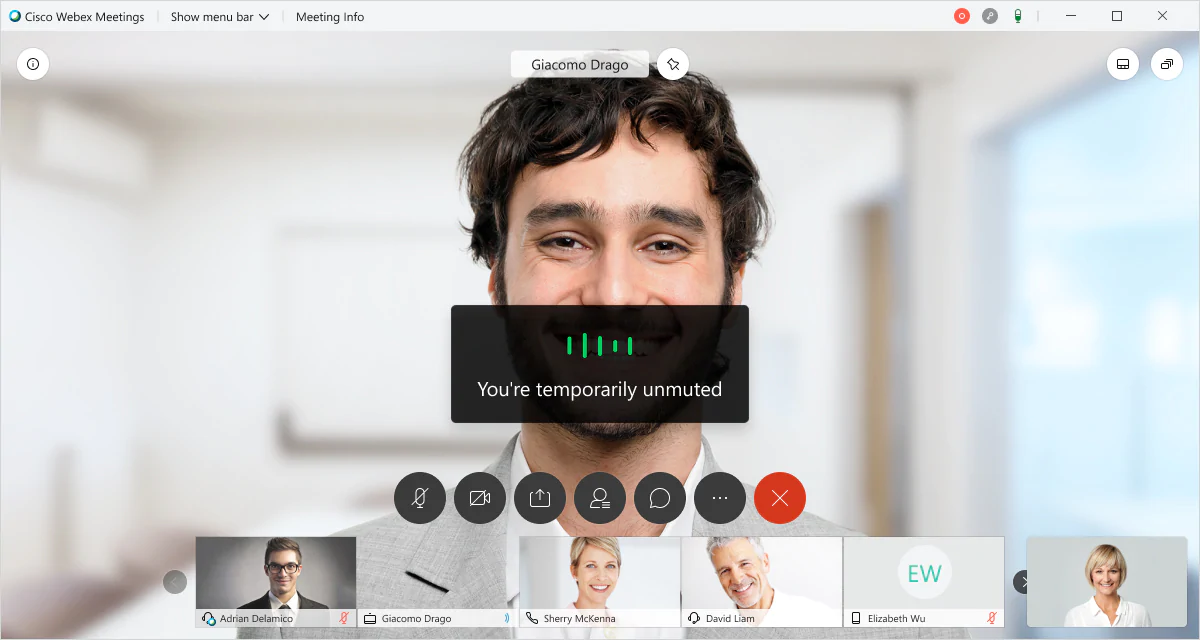 New Self View Layouts
Your self-view is now shown alongside the video thumbnails of other participants for a more natural experience. If you prefer to float your self-view instead, simply click 'Show my self-view in a floating window'. For more information visit help.webex.com.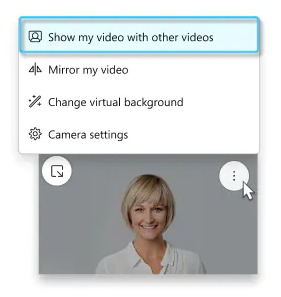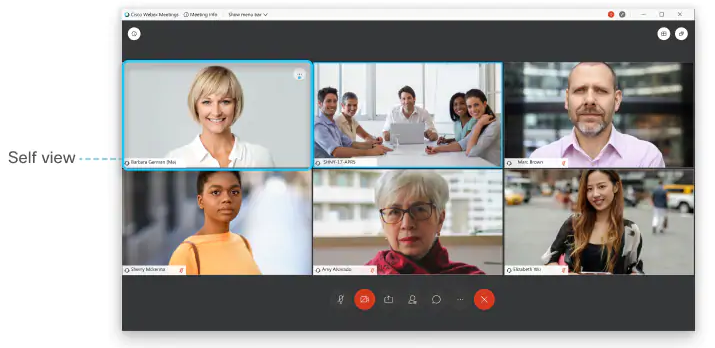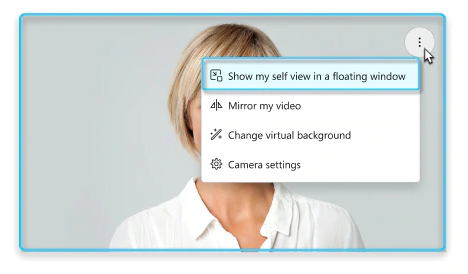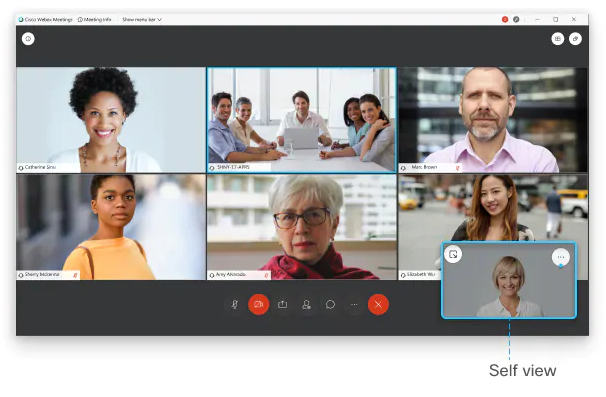 Hide or Show Audio Only Participants
Focus on the people who are showing video during a meeting or event by hiding all the participants who aren't on video. To do so, click 'View' -> 'Hide non-video participants'. For more information visit help.webex.com.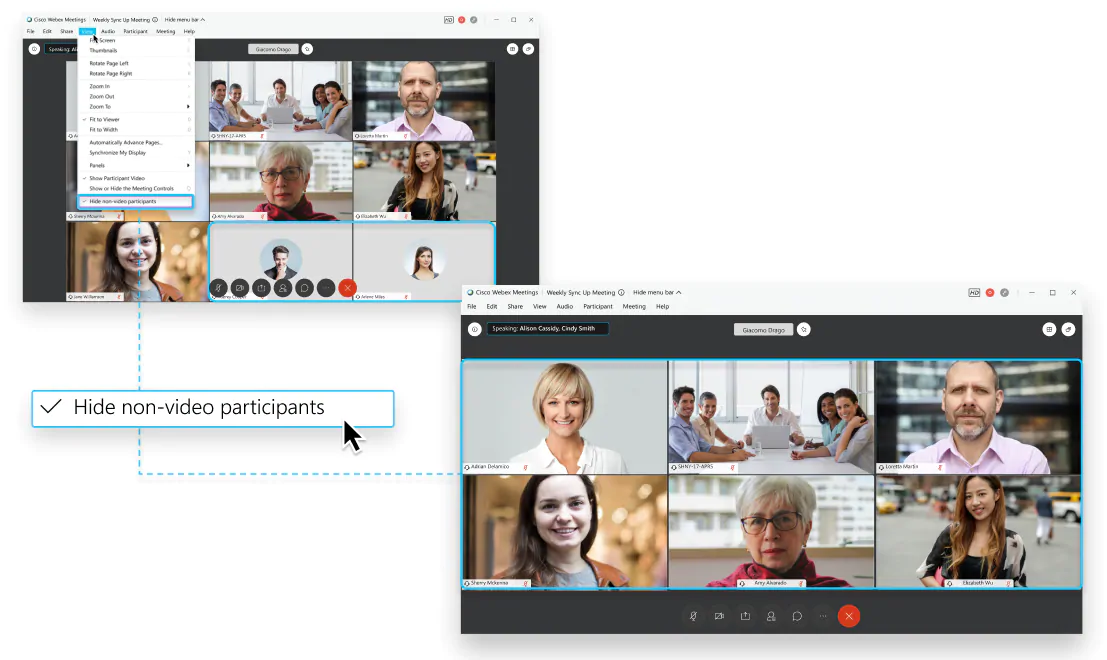 Improved Microphone Testing
Selecting the "Test" button next to the microphone selection will allow you to record yourself speaking to test the microphone. The recorded audio will automatically play back through the selected speaker. If you can't hear the test sound, try changing the microphone device and testing it again.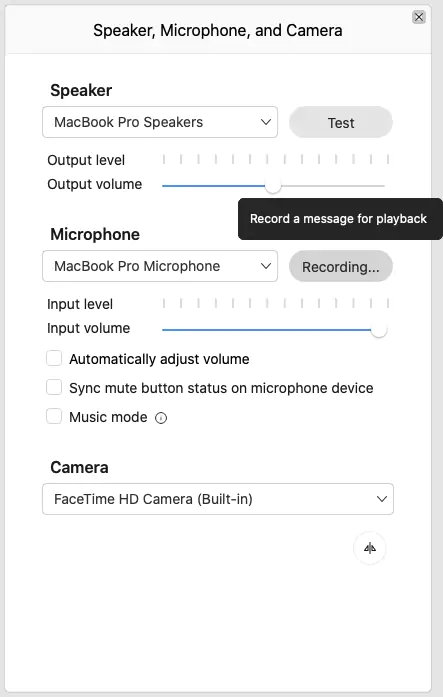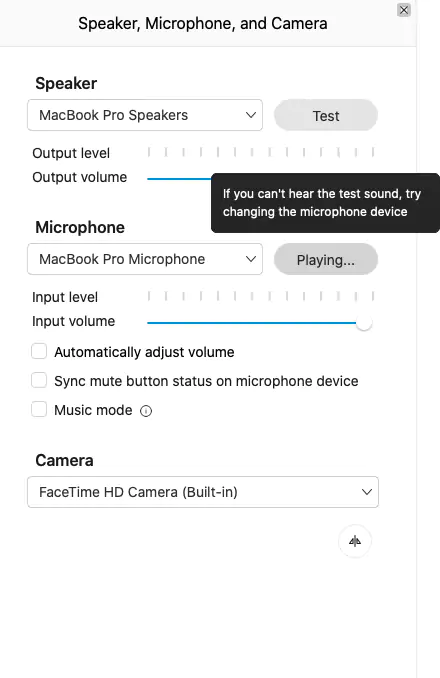 High Quality Recordings and Trimming
When a Host records a Webex meeting, the playback will now include high quality video of participants and shared content, and the start and end can be trimmed to remove any unnecessary content. To learn more about how to use the trimming feature, please refer to https://conferencing.csiro.au/webex-meetings.php?ref=trimming_recording.